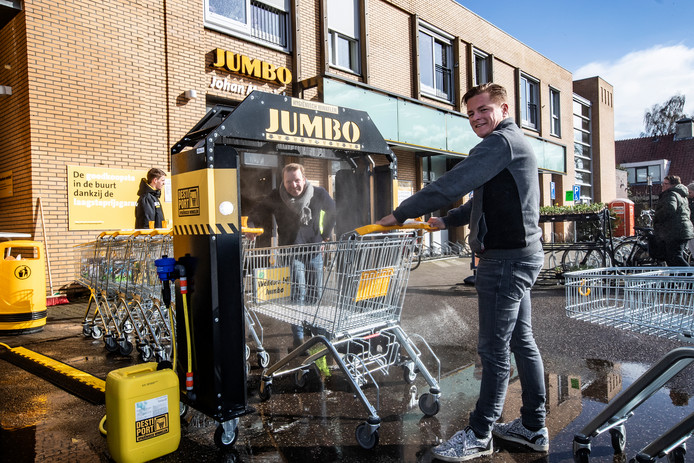 No hassle with wipes or a spray, but just huppetee, through the shopping cart wash. In Bathmen they have the scoop of the Destiport.
Customers of supermarket Jumbo in Bathmen get it as soon as they see the car wash in front of the shopping carts. If you took the groceries out of the cart, put it neatly for Destiport. In other words, a mobile shower with six nebulizers from which a mixture of water comes with a disinfectant. The employee tackles the cart, rolls it under the gate where the disinfection begins and dries it off with paper. Ready for the next customer, who is waiting remotely amused.
Child seats
The miniwash just got there. Supermarket owner Johan Mensink is in his sas. "It's almost not cleaner than this," he says firmly. ,,Disinfecting in this way gives the customer the feeling that everything is really clean. Handles, the child seat and the car itself. Because you're really on everything with your fingers. And it saves workers." A customer who has just issued the cart nods in agreement. "It's fantastic," she shouts, 1.5 metres away. ,,And ideal for the youth who work here. They don't have to deal with dirty carts. I like the feeling of clean.
Garden centres
The creators of the Destiport, Floris Schoemaker from Holten and Alex Punte from Oldenzaal, watch remotely. The pilot seems to have succeeded after 20 minutes. Schoemaker didn't have to think about the concept for long. I thought that should be much easier than all those wipes and sprays. In our small company Steelbasterdz we can make everything. I approached Alex. He has a business in cleaning products and is good at dosing technology. Alex made the composition, we made the car wash. In four days the Destiport is built and tested. And now it's here."
Schoemaker is convinced that the mini wash street will be a success everywhere. ,,We have also approached other supermarkets and garden and construction centres. Wherever shopping carts are used, such a device can be. With the capacity we have, we can produce a few hundred pieces in two weeks time. I love seeing how quickly people understand the system. You don't have to explain anything to them.
Source: Tubantie / De Stentor